When Elizabeth heard Mary's greeting, the infant leaped in her womb, and Elizabeth, filled with the holy Spirit, cried out in a loud voice and said, "Most blessed are you among women, and blessed is the fruit of your womb."
Luke 1: 41-42
Dedication of the Mary Garden:  January 16, 2016 at 10:00 am
Did you know that our parish now has a "Mary Garden"?  It is located just outside the doors of the Holy Family Chapel in the space which was known to many parishioners as the "Meditation Garden".
The idea of creating a special garden dedicated to our Blessed Virgin Mary was conceived in the spring of 2015 when a member of the Saint Gregory the Great Gardening Ministry broached the thought to Father Nick of totally replanting the Meditation Garden, which, at that time, had fallen into a state of disrepair.  Father Nick was quick to recognize that the shape and size of the area, with a semi-circular rear wall, would make a wonderful prayer and meditation space with a statue of the Blessed Virgin Mary added to it.
After several discussions with Father Nick and much research conducted by members of the Gardening Ministry, a design was made for a Mary Garden, populated with plants associated with Mary Gardens dating back to the period from the 4th to the 16th century.
Research was conducted as well into various statues which represent the Virgin Mary, there being many different images of Her, mostly associated with Her apparitions (for example, Lourdes, Guadalupe, Fatima, to name just a few).  Photographs of several statues were circulated among the Gardening Ministry members, all our parish priests and office staff, and a final one was chosen.
The next time you wish to find a peaceful environment for prayer, how about visiting our new meditative garden!
PLANTS IN SAINT GREGORY THE GREAT'S MARY GARDEN
At this time we have in our Mary Garden the following herbs and flowering plants (which will change with the seasons).  The Mary Garden was constructed and is maintained by the Saint Gregory the Great Gardening Ministry.
Common Name:  Sage
Mary Name:  Mary's Shawl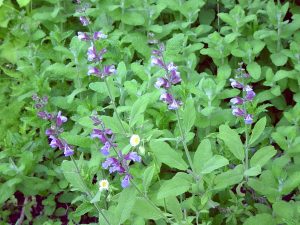 Common Name:  Rosemary
Mary Name:  Mary's Nosegay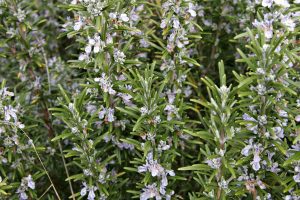 Common Name:  Thyme
Mary Name:  The Virgin's Humility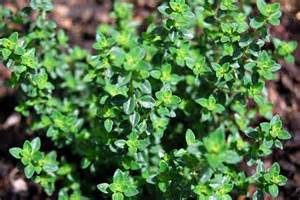 Common Name:  Impatiens
Mary Name:  Our Lady's Earrings, or
Mother's Love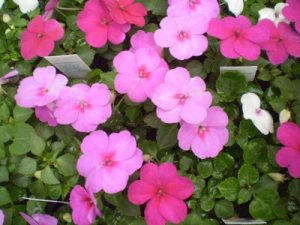 Common Name:  Day Lily
Mary Name:  St. Joseph's Lily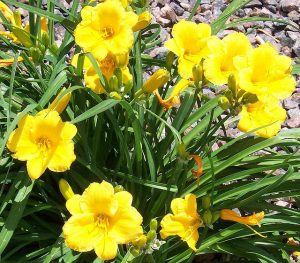 Common Name:  Snapdragon
Mary Name:  Infant Jesus' Shoes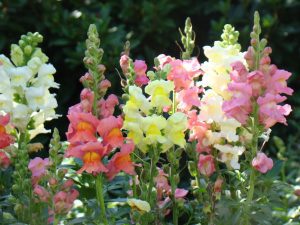 A SHORT HISTORY OF MARY GARDENS
Although not specifically referred to or named a "Mary Garden", it is known that the 4th century monastery of St. Benedict contained a rose garden which was known as the "rosary".  Two centuries later, the first garden known to have been dedicated to the Virgin Mary was established by the Irish St. Fiacre (native of County Kilkenny, where his memory is still celebrated today) in a place called Meaux, in France.  St. Fiacre is also known as the patron saint of gardeners.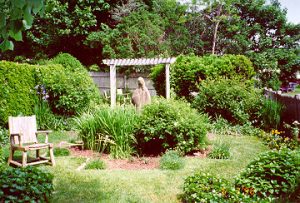 The first Mary Garden in the United States was established in 1932 on the grounds of St. Joseph's Church in Woods Hole, Massachusetts by Mrs. Frances Crane Lillie, who had a particular devotion to the Virgin Mary.  The original planting of the St. Joseph's Mary Garden, photo at right, consisted of fifty different flowers and herbs associated (during the medieval times in England) with the Virgin Mary.  According to the Marian Research Institute in Dayton, Ohio, there are over eight hundred herbaceous and flowering plants named for Christ, the Virgin Mary and the saints.  You can find lists of these plants at the following websites:
Plant Resource List 1   –  LINKS ARE BROKEN
https://udayton.edu/imri/mary/archive.php?tags=Stokes%20Mary%20Gardens|Gardening|Flower%20Lists
MORE…
Saint Gregory the Great Mary Garden
Gardening Ministry