"You are being enriched in every way for all generosity, which through us produces thanksgiving to God"
 2 Corinthians 9:11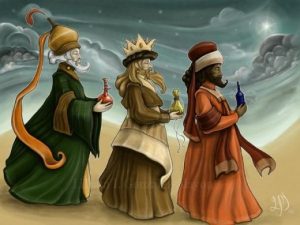 As part of our sister parish outreach program, the Adopt-a-Family ministry provides Christmas presents to needy families who attend Our Lady of Angels parish.
Over 100 families are the recipients of gifts provided by parishioners of Saint Gregory the Great. For some of the families, these will be the only gifts they receive. The goal of this ministry is to share our many blessings and to build a relationship with our sister parish.
Contact:  Manny Vega • 858-357-7987 • sggadopt@gmail.com
2018 ADOPT-A-FAMILY
HOLIDAY STEWARDSHIP
PROGRAM
It is time again for the Saint Gregory the Great Adopt-A-Family Stewardship Program.  The program provides an opportunity for parishioners to share their blessings with those who are in need, through "adopting" (sponsoring) families who may not otherwise be able to provide during the holiday season. Families from Saint Gregory the Great who are having financial hardship are encouraged to apply.
How does the program work?  You will be asked to purchase and wrap modest gifts.  The packages are to be dropped off at the Parish Hall, here at Saint Gregory the Great, before or after Mass on December 15th and 16th.  (Early drop-offs can be coordinated if your holiday schedule conflicts with these dates).  Gifts will be delivered to our Sister Parish, Our Lady of Angels, on Monday December 17th.
Gift cards for groceries are also a wonderful way to support these families, even if you are not able to participate in the wrapped gift program.
On behalf of the Adopt-A-Family Stewardship Program, we thank you for your support!