MENTAL HEALTH NAMI EVENTS

NATIONAL ALLIANCE ON MENTAL ILLNESS (NAMI)
 Let's join together and bring an end to the stigma of mental illness.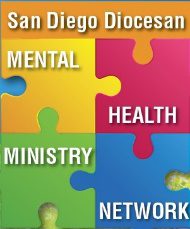 NAMI San Diego 

in collaboration with Saint Gregory the Great's Mental Health Ministry
is pleased to offer the following educational program:
NAMI Family to Family:  January 24 – March 28 (8 Week Course)
An educational program for families and friends of individuals who experience mental illness.
***All classes will be held virtually using Zoom.***
Classes are FREE and open to all parishioners and members of the community.

---
---