"Jesus raised his eyes to heaven and said, 'Father, the hour has come. Give glory to your son, so that your son may glorify you'"
John 17:1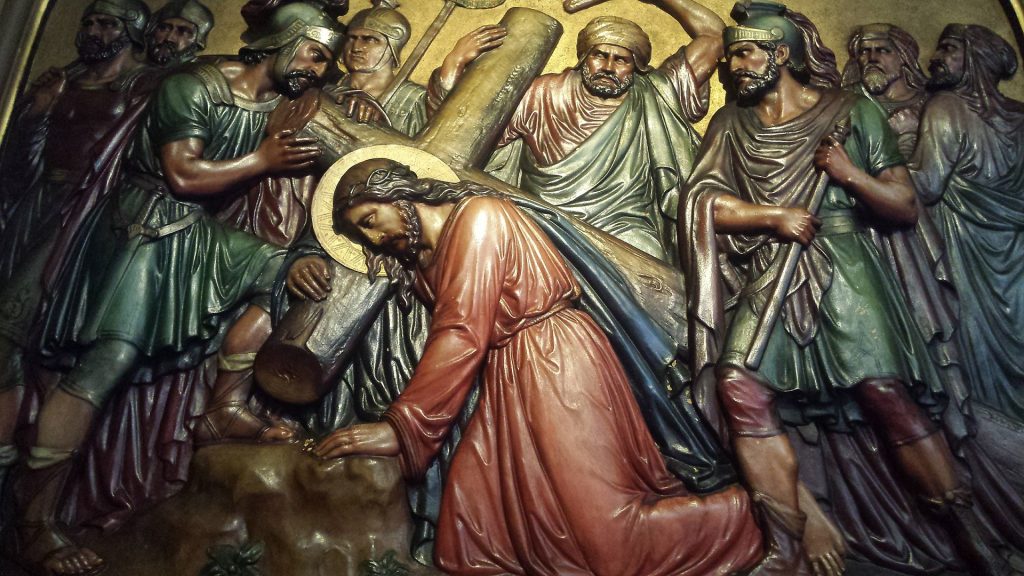 ---
Fridays of Lent:  February 24 – March 31, 11:00 am & 7:00 pm
---
The Stations of the Cross began as the practice of pious pilgrims to Jerusalem who would retrace the final journey of Jesus Christ to Calvary. Later, for the many who wanted to pass along the same route, but could not make the trip to Jerusalem, a practice developed that eventually took the form of the fourteen stations currently found in almost every church. During the papacy of Pope John Paul II, a 15th Station of the Cross was included. He decided that the 15th station of the cross was Jesus Christ's Resurrection.
Here at Saint Gregory the Great, this venerable devotion is practiced each Friday during Lent at both 11:00 am and 7:00 pm. Everyone is invited to participate as we pray and remember Jesus' suffering and associate his suffering with our lives today. Each experience is different than the next as alternate prayers are selected, and musical accompaniment is often offered to enhance the prayerful environment, particularly during the evening Stations.
Stations of the Cross can be practiced on your own at any time, both in the church as well as on our outdoor Stations positioned throughout the campus. See our prayers resources below to select a Stations of the Cross theme that appeals to you or your group.
---
Contact:  Parish Office • 858-653-3540 • info@stgg.org
---