"The angel Gabriel said to Mary, 'The holy Spirit will come upon you, and the power of the Most High will overshadow you. Therefore the child to be born will be called holy, the Son of God'."
Luke 1:35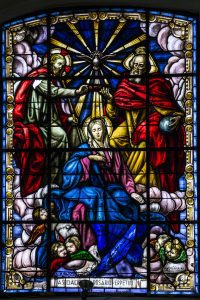 As the Mother of God, the Virgin Mary has a unique position among the saints and among all creatures. She is exalted, yet still one of us. The Church honors her as the Mother of God, looks to her as a model of perfect discipleship, and asks for her prayers to God on our behalf.
We respect her for being the Mother of the Son of God. She was chosen by God and gifted with sublime grace. Her grace far surpasses all creatures, both in heaven and on earth.
Mary embraced God's will and freely chose to cooperate with God's grace. She played a crucial role in God's plan of salvation. Throughout the centuries, the Church has turned to the Blessed Virgin to come closer to Christ. Many devotions to the Mother of God were developed, that help bring us closer to her Son.
In these devotions to Mary, while the Mother is honored, we do not worship Mary. It is certainly the will of God, that we love and honor the Mother of Jesus; yet this is something essentially different from the homage we offer to her Son.

The Immaculate Conception
The Immaculate Conception is the belief that our Blessed Virgin Mary was free from Original Sin from the very moment of her conception in the womb of her mother, Saint Anne.
The Immaculate Conception is a solemn feast day celebrated on December 8. It is a holy day of obligation to attend Mass.
The Assumption
The Assumption of Mary is the celebration of her passing into eternal life, when she was taken up body and soul into heavenly glory upon the conclusion of her earthly life. Though the Church has long believed in the Assumption of Mary, the dogma was only formally defined by Pope Pius XII in 1950.
The Assumption is a feast day celebrated on August 15. It is a holy day of obligation to attend Mass.