"Jesus said to his apostles, 'The Advocate, the Holy Spirit that the Father will send in my name—he will teach you everything and remind you of all that told you'."
John 14:26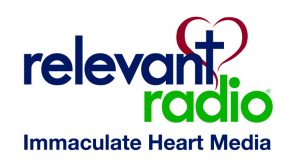 Relevant Radio is an apostolate that operates a growing network of Catholic radio stations.  The mission of this ministry is dedicated to spreading the knowledge, love and practice of the Catholic faith by means of the radio.  Programming content is primarily Catechetical, devotional and inspirational in nature.  Many programs feature a call-in discussion format.
Contact:  Greg Lettau • 858-663-6978 • gslettau@gmail.com
October 23, 2017
There's something for everyone in our new show line-up on Immaculate Heart Media, broadcasting as Relevant Radio. Find your favorite shows and many new ones at RelevantRadio.com and on the free mobile app. Thank you for your support and prayers – we are thrilled to bring you more inspirational Catholic programs all day long!