Did you know that the St. Gregory the Great parish campus earned a Grand Orchid Award in 2000 from the San Diego Chapter of the American Institute of Architects (AIA)?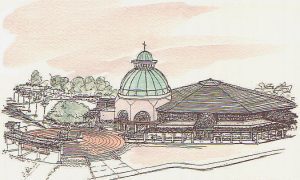 The Parish Tour ministry invites parishioners to join them in a narrated tour of the award-winning St. Gregory the Great campus. The tour shares the history and rich symbolism of the architectural design of not only the church, but of the entire parish campus. For example:
The labyrinth is modeled after the labyrinth at Chartres Cathedral in France.
You can see your own halo when you peer into the baptismal font.
The dome over the baptismal font was painted by hand.
The markers for the Stations of the Cross are modeled on the real station markers along the Via Dolorosa.
The tour describes how the symbolism represented by the external design enhances our personal experience and contributes to our spiritual growth.
Contact:  Deacon Ron Diem • 858-653-3582 • deaconron@stgg.org
Please contact Deacon Ron for schedule. 

Meet in the Church.  Refreshments will be served in the Parish Office Tower immediately following the tour.  Hosted by the Stewards of Parish-wide Involvement.
A parishioner's quote from a past tour…
"I realized how important church architecture and environment is as an evangelical instrument that draws people to God."