"Martha, the ministry's namesake, is the sister of Mary and Lazarus. In the biblical reference, she is doing something practical."
(Luke 10:40, John 11:20, 28, and 39: 12:2)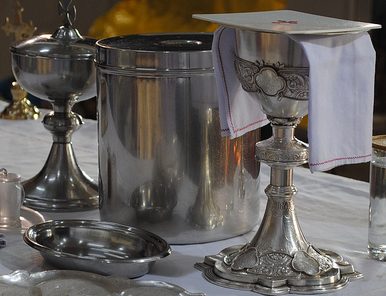 The Martha's Ministry of Saint Gregory the Great is dedicated to supporting the upkeep of the church environment where the faith community come together to worship.  This ministry plays an essential role in the preparation of our liturgies.  Among the responsibilities are cleaning and purifying the sacred vessels used during Mass, changing altar candles and maintaining inventories of bread and wine.
Contact:  Caroline Yandell • 858-566-6870 • carolinesfo@yahoo.com
From the Office of Divine Worship:
Purification of Vessels
There is a distinction between purifying vessels and cleaning the vessels.  By purifying vessels, the Congregation for Divine Worship means putting some water in the vessels and then consuming the remains of the consecrated bread or wine.  this is what is restricted to priests and deacons.  By cleansing or cleaning the vessels, the Congregation for Divine Worship allows us to continue the practice of lay ministers washing the vessels with soap and water after the priest or deacon has purified them.