"By this is my Father glorified, that you bear much fruit and become my disciples."
John 15:8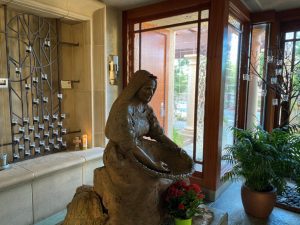 Saint Gregory the Great parish exists to meet the pastoral, educational and spiritual needs of all its members and friends. We are a very special and gifted parish family with a deep affection for its spiritual home. Our entire faith community has united through financial sacrifice to build and create this spiritual home, including our parish and school campuses, and all the facilities that we enjoy today.
The success of our construction & design efforts has relied upon all parishioners assuming an active and purposeful role in past fundraising. It has been a true sacrifice and a lasting tribute to the faithfulness and great love of the community that we have reached our goals.
In our Holy Family Chapel, we have created a special way to memorialize the generosity of our parishioners by etching the names of every individual and/or family as a stunning and lasting tribute of their sacrifice. This prayerful space is a meaningful and abiding way to remember our benefactors, as well as provide an appropriate meditation environment for all.
---
Contact:  Parish Staff • 858-653-3540 • info@stgg.org
---