"O LORD, my rock, my fortress, my deliverer, my God, my rock of refuge!  My shield, my saving horn, my stronghold, my refuge, my savior, from violence you keep me safe.  Praised be the LORD, I exclaim!  I have been delivered from my enemies."
2 Samuel 22:2-4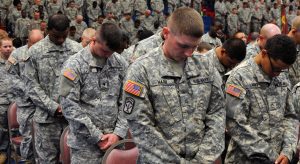 The Military Friendship & Support group provides social interaction, informational support, and service to parish military families.
The group welcomes military families and offers support for families of deployed members of the military through networking and service projects such as letters and care packages.
We encourage fellowship through social events such as potluck meals.