"If one of your brethren becomes poor and falls into poverty among you, then you shall help him, like a stranger or a sojourner, that he may live with you."
Leviticus 25:35
Saint Gregory the Great maintains a continuous food drive that provides non-perishable food items, donated by parishioners, to both Rachel's Hope Escondido and Life Choices.  Food donations are collected before and after all Masses. These essentials bless the lives of others and provide security in their need.
When shopping for your family, please consider adding a few items for our collection.  Desired items include; canned meat/fish, peanut butter, canned fruits and vegetables, pasta, pasta sauce, soup, cereals, rice and beans, or ramen packages.  Anything non-perishable is welcome.
Donations may be dropped off during all Masses, either in the truck parked in front of the gathering plaza, or in the ministry center.
Thank you for your generosity and help.
Contact:  Eddie Arebalo • 858-231-8615 • info@stgg.org
Non-Perishable Items
(in sealed, unopened packages please)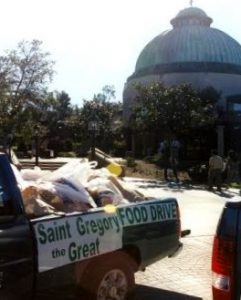 White, Long-grain Rice
Pinto Beans
Dry Pasta
Lentils
Non-Sweetened Cereal; Cheerios, Corn Flakes, Oatmeal, Cream of Wheat
Apple Juice / Apple Sauce
Soups or Ramen Noodles
Baby Formula / Cereal
Peanut Butter
Canned Fruit / Vegetables
Nutrient Bars