On my honor, I will do my best to do my duty to God and my Country and to obey the Scout Law; To help other people at all times; To keep myself physically strong, mentally awake, and morally straight.
The Boy Scout Oath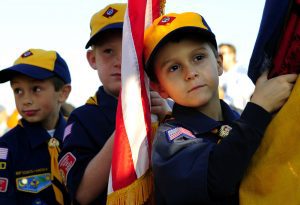 The Cub Scouts of America's goal is to train youth in responsible citizenship, character development, and self-reliance through participation in a wide range of outdoor activities, educational programs, and, at older age levels, career-oriented programs in partnership with community organizations. For younger members, the Scout method is part of the program to instill typical Scouting values such as trustworthiness, good citizenship, and outdoor skills, through a variety of activities such as camping, aquatics, and hiking.
The Catholic faith is at the center of all activities and the Scouts are encouraged to strive for a life of holiness.
---
---