"From the beginning, the Creator 'made them male and female' and said, 'For this reason, a man shall leave his father and mother and be joined to his wife, and the two shall become one flesh. So they are no longer two, but one flesh.  Therefore, what God has joined together, no human being must separate."
Matthew 19:4-6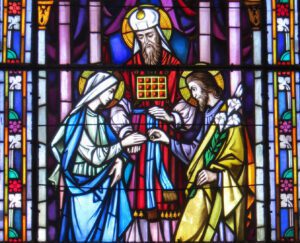 The Sacrament of Matrimony represents the unbreakable and self-giving bond of love between a man and a woman. This love, which the couple has for each other, mirrors the divine love that God has for His people.
From the beginning, marriage was instituted by God as a natural contract for the purposes of procreation. Christ elevated marriage to the dignity of a Sacrament with marriage as a covenant.
The minister of the Sacrament of Marriage is the couple themselves. The Priest or Deacon serves as a witness. The grace of the Sacrament is given and received through each spouse to the other.
---
Contact:  Judy Roitz • 858-653-3584 • wedding@stgg.org
---