"What is Apollos, after all, and what is Paul? Ministers through whom you became believers, just as the Lord assigned each one. I planted, Apollos watered, but God caused the growth. Therefore, neither the one who plants nor the one who waters is anything, but only God, who causes the growth."
1 Corinthians 3:5-7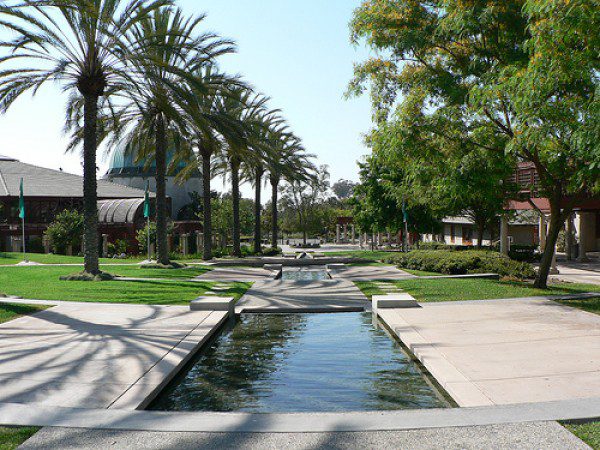 The parish of St. Gregory the Great was founded in August of 1985. Our first Mass was celebrated September 3, 1985, on the feast of St. Gregory the Great, at Miramar Ranch Elementary School. For the first two years, our faith community held weekend liturgies in a variety of locations. The Parish Office was in the Scripps Ranch residence of our founding Pastor, Fr. Jim Poulsen. Weekday Masses were in the living room and Holy Day Masses in the backyard until December of 1987, when office space at the Geico building on Treena St. was leased as our parish center for the next twelve years. In that time our parish grew from 200 families to over 1,300. We longed for a permanent home.
Finally, after three capital campaigns, years of meetings and a multitude of prayers, the parish of Saint Gregory the Great broke ground for our permanent church home on October 12, 1997. February 7, 1999, was a historic moment, not only for our parish but also for the entire Scripps Ranch community, as it was the day the first permanent cross was raised and placed on the first permanent church in Scripps Ranch. Our first Mass in the new church was celebrated on October 2, 1999, where 1,100 parishioners gathered in our plaza and were invited in as our front doors opened to our faith community.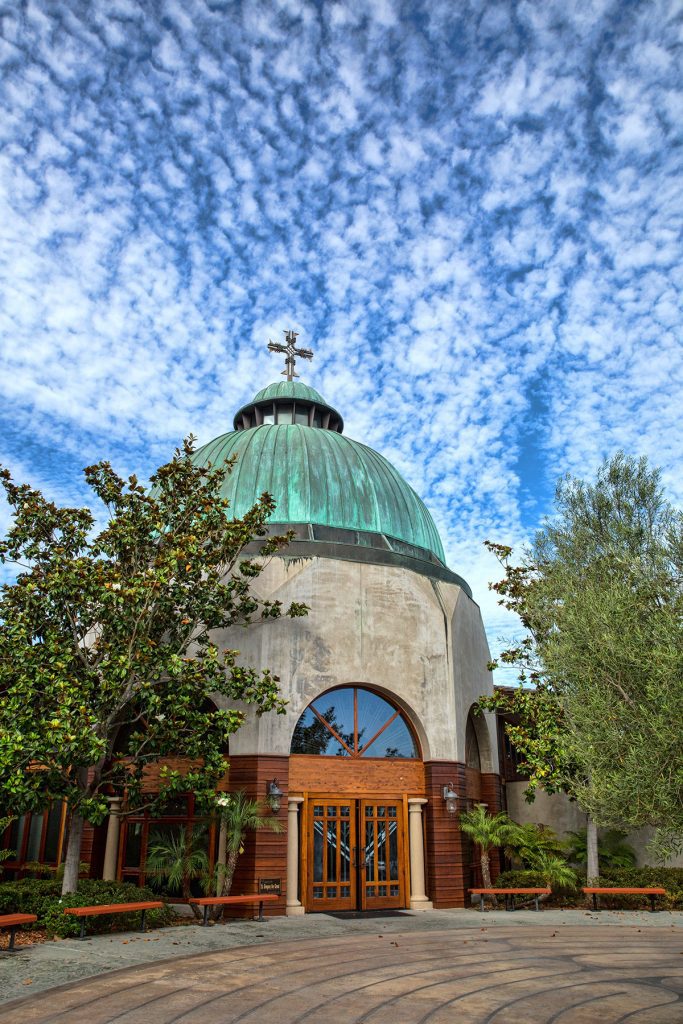 A year later another historic moment occurred. Our campus, the church, the grounds, the parish offices, and the hall were each considered for San Diego County's top architectural awards. The media heralded St. Gregory the Great with a Grand Orchid Award. Our Catholic community won top honors in all three categories! We frequently have visitors from parishes who are planning to build their own new Catholic church, tour our campus for inspiration, and marvel at the sacramental symbolism and environmental components that are woven into the fabric of our campus.
In October 2003, 300 homes were destroyed in Scripps Ranch by the Cedar Fire. Our church building and parish hall became the refuge and outreach center for hundreds of families and civic leaders in the days and weeks that followed. Our parishioners reached out to the local community with open doors for town hall meetings and open arms to establish a distribution center for clothing, food, and furniture in our parish hall.
In 2005 our grateful and generous stewards reached across the aisle to support the victims of Hurricane Katrina. Again, our parish hall was the "Community Center" for collecting truckloads of clothing and other necessities destined for those in need in Louisiana. It was a time for supporting communities beyond our church home.
We continue our outreach efforts and provide assistance, in particular to our sister parish, Our Lady of Angels, with our 'Sister Parish Outreach'; as well as the 'Build-A-Miracle' and 'Outreach for Nazareth Orphanage' ministries.

After 19 years of dedicated service, we said farewell to our founding pastor, Fr. Jim Poulsen, in the fall of 2004 and on January 1, 2005, welcomed our new pastor, Fr. Nicholas Clavin, to meet the increasing challenges of our growing parish. Father Nick embraced his new home with warmth and a caring heart. His passion is 'Catholic Stewardship'. Stewardship is accepting God's gifts gratefully, cultivating and using them wisely by serving others, and returning those gifts with an increase back to the Lord. Under Fr. Nick's leadership, our Catholic faith community continues to grow, evolve, and create new beginnings through community outreach. We currently have 76+ ministries and groups. To accommodate future growth, we have expanded our hall by 50% and added Faith Formation and nursery buildings. The nursery doubles as a large meeting room during the week.
Since 2005, the parish has remitted the debt for the church campus and purchased, at a reduced rate from developer Corky McMillan, land in Stonebridge for the parish school. Funds were raised to build the school, which opened its doors for 60 students in 2009 under the leadership of Mrs. Maeve O'Connell. Soon after, the library including the school office was built.
School enrollment has continued to grow and the construction of six new classrooms, including three preschool rooms, a state-of-the-art science lab, resource/counseling center, and faculty lounge was completed in 2018. These new classrooms allow us to be competitive with surrounding schools. Catholic education of our youth is a priority. Between our Faith Formation program and Catholic School, we provide religious education and formation for approximately 1000 students, including 250 teens in our youth program.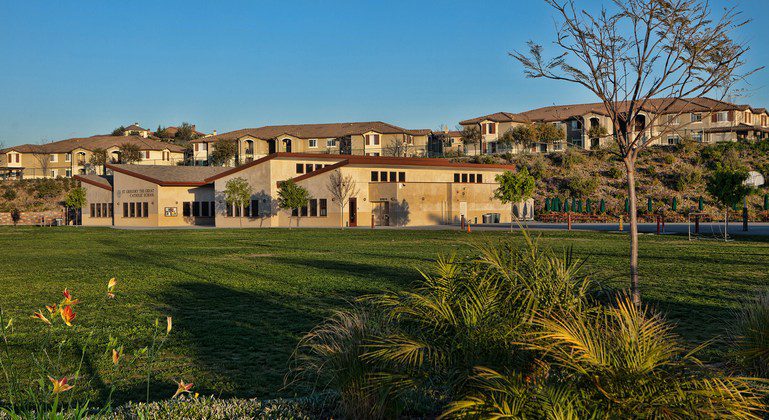 Extraordinary liturgies at St. Gregory the Great have always been incredibly important to our community development. The Triduum and Easter, Christmas, Thanksgiving, and Healing Masses are truly unique blessings that enhance and deepen our spirituality. The celebration of Father Nick's 40th Anniversary of Ordination in June 2014, was one of many joyful social events held on our campus.
Please join us and become a part of our history as it unfolds!