"Do not neglect hospitality, for through it some have unknowingly entertained angels."
Hebrews 13:2

The Cooking Group of Saint Gregory the Great is comprised of stewards that share their culinary gifts with each other and, through an outreach of hospitality, to our parish community.  The members enjoy fellowship in cooking and food, with recipe exchanges, cooking demonstrations, field trips, and dining together.  This is a wonderful opportunity to meet with parishioners who share an interest in the culinary arts and to develop lasting friendships.
Contact:  Margaret Byrne • 858-549-3375 • mbyrne@mbyrnelaw.com
As a follow-up to the Saint Gregory the Great Cooking group's first cookbook, "A Taste of Heaven (2002)", volume II is now available for purchase!
A Taste of Heaven, Volume

 II
The Saint Gregory the Great parish community and school continue to grow and so do our physical needs.  The "Taste of Heaven" cookbook is a fundraiser to support the Saint Gregory the Great Community as it grows.
Good fellowship and food are a natural pairing.  We hope you will enjoy the many outstanding and treasured recipes on the pages of our cookbook.  And, remember – just cook and see what happens.  Gather family and friends to your table and serve a meal you prepared.  Pick a recipe and let us know what you think.
We are grateful to all the parishioners and friends who generously contributed their recipes.  We would like to give thanks to Bob Forrest who provided the cover photo.
Cookbooks are available in the parish office for $15.00.
These make great gifts!
Rice Cooker Jambalaya
by Jenny Quimpo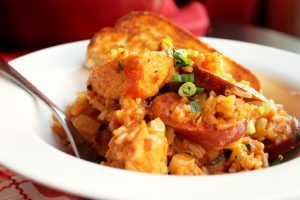 Ingredients:
1 1/2 c. uncooked rice (not instant rice)
1 lb. spicy smoked sausage, fully cooked
1 lb. raw peeled and de-veined shrimp
2 c. cooked chicken
1 7 oz. can diced green chilis
2 T. Creole seasoning, such as Zatarain's
4 c. chicken broth
Directions:
Rinse the uncooked rice until the water is clear.  Drain excess water.  Cut each sausage lengthwise and then into 1/4 inch half rounds.  Shred or dice the chicken into bite-sized pieces.  Put all ingredients into the rice cooker, stir well, close the lid and press Start.  When the rice cooker is done, it's ready and delicious!