Mental illness is a medical condition that disrupts a person's thinking, feeling, mood, ability to relate to others and daily functioning. One in five families has a member with a diagnosable mental illness.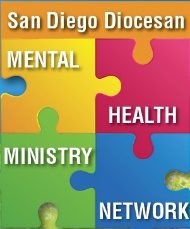 The Mental Health Ministry partners with the Diocese of San Diego to offer support for families in the parish that are experiencing mental health challenges.  By interfacing with county, local non-profit, and private mental health providers, Catholic families will be introduced to healing professionals and services able to facilitate their healing journeys.
Prayerfully supported by parish lay leaders, and receiving professional care, families strive for wholeness and an end to the stigma that still endures when mental health is challenged.
Please submit your name and email address if you would like to be informed of future meetings held at Saint Gregory the Great church. mentalhealthministry@gmail.com is a public account, not privately used, only to promote educational meetings.
Thank you.
Schedule of Meetings 2018-2019
Meetings are held in the Parish Hall
No meetings currently scheduled. 
***Meetings are subject to change without notice.  Please contact the ministry facilitator for the most current schedule.
Advocacy Groups
Crisis Intervention/Information and Referral Services
Referrals To Diocese approved licensed therapists
Resources by Diagnosis
San Diego Countywide Services
Support Groups
Youth-Oriented Support Groups