COME HANG OUT AT VBS ON THE SAINT GREGORY THE GREAT PARISH GROUNDS!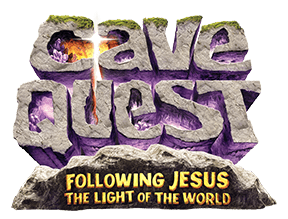 ---
July 25 – 29, 2016    •    9:00 am – 12:30 pm
---
Embark on a VBS Adventure That Will Light Their Way!
Gear up for an over-the-top underground adventure! Ground kids in the rock-solid foundation of God's love, a love that takes us through life's dark times.
Provide a Guiding Light With God's Word
At Cave Quest vacation Bible school, kids experience God's Word in surprising and unforgettable ways! Each day, leaders reinforce one simple Bible truth—which makes it easy for kids to remember and apply to real life!
---
Contact:  Ginger Marlin or Judy Roitz • 858-653-3594 • ff@stgg.org
---
Campers:
For children in grades preschool (age 4 minimum and potty-trained) through 5th grade.
Volunteers:
For youth entering 6th grade and up (2016-2017 School Year).
Registration:
Please visit the parish office to register.  Registration includes T-shirt, CD (one per family), daily snacks and crafts!
Fees:
$95.00 for 1st child, additional siblings $50.00 each.
STATIONS
A Typical Day at Cave Quest Vacation Bible School
Kids will spend each day spelunking through field-tested activity stations with their Cave Crews (small groups of up to 5 kids and one leader). Every station is designed to reinforce the daily Bible Point in a hands-on, interactive way that keeps everyone engaged.
Sing & Play Rock
Start the day together, singing a fun mix of classic worship songs and brand-new praise songs.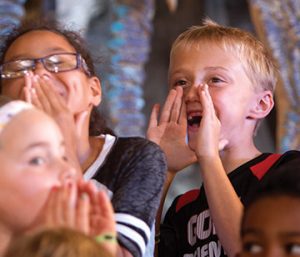 Deep Bible Quests
Kids experience the Bible in active, hands-on ways and then circle up with Cave Crews for thought-provoking discussions.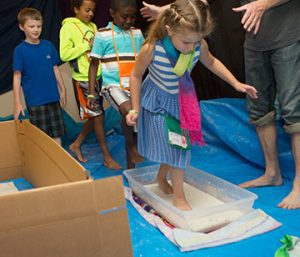 KidVid™ Cinema
Kids watch films about real kids in the real world living out their faith in really cool ways reminding all of them that no matter what happens, God's power will pull them through.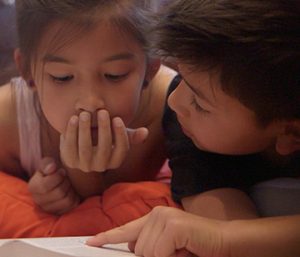 Imagination Station
Imaginations soar as kids experiment with Sciency-Fun Gizmos™.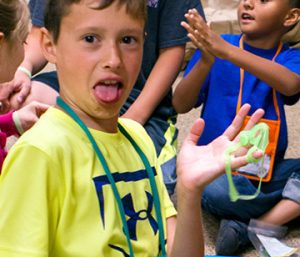 Spelunker Sports & Games
Kids run, jump, and even splash through games that connect with the daily Bible Point.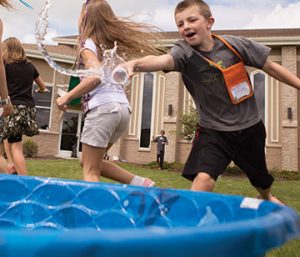 Cavern Café
All the Crews comes together to eat snacks that connect with that day's key Bible verse.
 Cave Quest Closing
Each day wraps up at Cave Quest Closing. Crews gather for loads of fun-filled, surprising, audience-involving activities and object lessons that reinforce the daily Bible Point.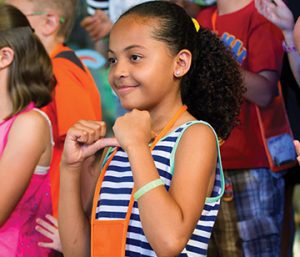 YOUTH & ADULT VOLUNTEERS
If you…
Are comfortable sharing your faith,
Want to bring some joy to others this summer
Have some experience working with children…
…then you belong on our team!
Interested in a volunteer opportunity this summer? Saint Gregory the Great Vacation Bible School day camp is a terrific time to help and interact with the younger children of our parish. Our VBS is loaded with fun-filled activities that bring kids closer to God. Through the different activities – singing, science gizmo/crafts, games, snacks, Bible story theatre – the children learn what the Bible point of the day is and how they can live it out in their life.
The theme for this year's camp is Cave Quest-Following Jesus, the Light of the World. The VBS camp will run Monday through Friday on July 25 – July 29. Volunteers need to be here from 8:30 am – 1:00 pm. On Friday the camp will conclude with a Mass that starts at noon.
We cannot put this camp on without volunteers, – a lot of volunteers. Work begins months before with planning, designing and assembling set decorations, making signs, registering campers, training, etc. Would you like to play a role in this year's camp? You are awarded service hours for the time that you volunteer at the VBS camp.   Review the volunteer opportunities on the back of this document and let us know what you would be interested in. Check your dates to make sure you can commit. Please contact us for further information.
Crew Leader A crew leader is assigned a group of children (usually 7 – 8 children) ranging in age from 5- 10 years old. As a crew leader, you guide the kids on their daily adventure taking them from station to station. At each station, a station leader will identify the activity to take place and provide directions. You will assist the crew members in completing the activity. A crew leader should love working with kids and be enthusiastic. You will want to encourage your crew members to participate in the various station activities. You need to commit to being at the camp July 25-July 29 from 8:30 am to 1 pm (8 am on Monday) and attend a training session. You will also be assisting in setting things up in the morning prior to the start of camp and putting things away and cleaning up at the end of camp each day. Additionally, at the end of the day, you will attend a review session to go over activities for the following day.
Assistant Crew Leader Assisting the Family Leader in performing the duties listed above
Station Leader Assistant There are 8 activity areas in our camp. A Station Leader Assistant would work at a single station and help as needed with the activity completed in that station. For example, in the Games area, you would take direction from the Games Station Leader and help set up the materials needed for the game, demonstrate the game, referee in the game, participate in the game, etc.
Adult Volunteers  (only)
Set Construction
June 17 at St. Michaels in Poway
Camp Setup
July 23, 9:00 am-Noon, or 2:00-5:00 pm
Camp Breakdown
July 29, Noon-2:00 pm
Camp Cleanup
August 2, 9:00-Noon
Overall Planning and Leadership
Planning phase April-July; must be present at camp Mon-Fri, July 25-29, 8:30 am-12: 30 pm; co-leaders are encouraged.
Please note: Babysitting is available during your volunteer time.  Adults who agree to volunteer 1 day to VBS will receive a $20 family discount on registration fees.

Photos courtesy of Noelle Barno